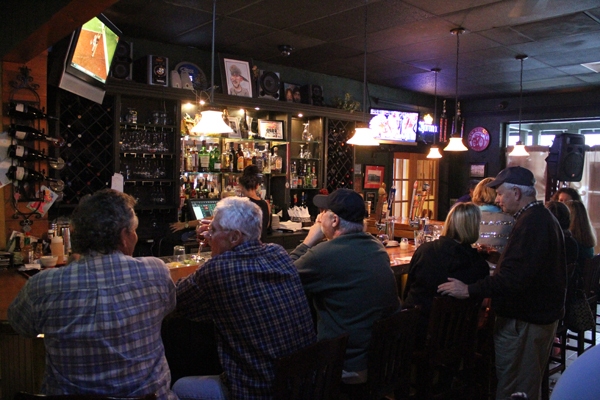 Bella's Italian Restaurant has an extensive beverage selection of beer wine and liquor. It's perfect on its own, or paired with our homemade, Italian food. Choose from a wide variety of wines from around the world, Handcrafted Classic Cocktails, sharable pitchers of beer and more. Sit at the bar or at one of our high top tables and enjoy your favorite sports team on one of the televisions above, or have fun with friends, or wait for your table to open in the dining room while enjoying a cocktail.
House Wine Selections
Domino Vineyards

Glass $6.00

Bottle $20.00

Chardonnay, Cabernet Sauvignon, Merlot, Pinot Grigio, White Zinfadel

Bolla Vineyards

Glass $7.00

Bottle $23.00

Chianti
Sparkling Wines
Prosecco, Lunetta, Moscato, Movendo

Bottle $19.00
Blush Wines
White Zinfadel, Sycamore Lane

Glass $6.00

Bottle $20.00
White Wines
Chardonnay, Rodney Strong

Glass $7.00

Bottle $23.00

"On the palette, pear and green apple with refreshing acidity will lure you back for another sip"

Pinot Grigio, Ruffino

Glass $7.00

Bottle $23.00

"Crisp and refreshing, light-bodied"

Savignon Blanc, Kono

Glass $8.50

Bottle $26.00

This Sauvignon Blanc impresses with its citrus notes of grapefruit and green apple, which mingle in with herbal hints.

Riesling, Chateau Ste Michelle

Glass $8.00

Bottle $25.00

"A Washington State favorite; just enough sweetness"

Chardonnay, Kendall Jackson

Bottle $25.00

"Most popular in America; perfectly balanced, creamy and smooth"

Chardonnay, La Crema

Bottle $29.00

"Lively citrus and subtle toasted oak, laced with just a kiss of butterscotch"
Red Wines
Menage a' TRois, Red

Glass $5.00

Bottle $19.00

Fresh, ripe, jam-like fruit that is the calling card of California wine

Cabernet Sauvignon, 337

Glass $7.00

Bottle $23.00

"Black cherry, blackberry, and cassis, interwined with sweet herbs and accents of black pepper spice"

Pinot Noir, Parker Station

Glass $7.00

Bottle $23.00

"Strawberry and plums abound"

Malbec, Amalaya

Glass $7.00

Bottle $23.00

"Orange zest and raspberries, with hints of vanilla"

Pinot Noir, Rodney Strong Russian River

Bottle $27.00

Subtle, toasty vanilla character and a hint of spice

Zinfadel, Brazin

Glass $7.00

Bottle $24.00

A core of intense, dark plum and cocoa rock the palate of this daring Zinfadel, while balanced acidity and lingering tannins

Chainti, Ruffino

Glass $8.00

Bottle $24.00

"Spectacular with Italian cuisine; Sangiovese grape show rich fruit with a dry finish"

Merlot, 14 Hands

Glass $8.25

Bottle $25.00

"Washington State shines with great Merlot; smooth finish, supple and rich dark fruit"

Shiraz, Peter Lehmann

Bottle $25.00

"Highly polished red and black fruit bouquet, with a touch of licorice for interest"

Cabernet Sauvignon, Rodney Strong

Bottle $29.00

"Aromas of blackberry, cocoa, and currant lead to rich and structured finish"

Pinot Noir, La Crema

Bottle $34.00

"Silky with red cherry and strawberry tones"

Cabernet Sauvignon, Sean Minor

Bottle $32.00

Once in your mouth; flavors of blackberries, raspberries and ripe plum fill the mid-palate, creating a full bodied and rich wine experience.

Cabernet Sauvignon, BR Cohn Silver Label

Glass $8.50

Bottle $28.00

Full of berry, cassis and black cherry fruit
Bella's Big Reds
Sartori Amarone

Bottle $63.00

"Powerful notes of ripe berry, plum and cherry"

Archery Summit Pinot Noir

Bottle $76.00

On the palate there is a core of dark red cherry complemented by notes of nutmeats, clove oil amoretti, lion's mane mushroom and cassis.

Stags Leap Artemis Cabernet Sauvignon

Bottle $70.00

The wine has a smooth, supple entry with good mid-palate structure with fine-granined tannins that lead to a lingering berry-cherry finish.
Domestic Beers
Bud, Bud Light, Miller Lite, Coors Light, Michelob Light, Michelob Ultra

$3.00

Sam Adams, Yuenling, Killians, Sierra Nevada, and High Life

$3.50

Redd's Apple Ale (Gluten Ale)

$3.25
Import Beers
Birra Moretti, Corona, Corona Light, Amstel Light and Heineken

$3.50

Stella Artois, Guinness and Newscastle

$4.00